At Grant Thornton we truly believe that corporate social responsibility is a foundation element in the activity of all our firms across the globe.
This concept is one of the underlying pillars of Grant Thornton global strategy. As part of this strategy we have committed to focus on growing together with our communities by leveraging our professional skills to unlock the potential for growth in our local communities around the world.
As part of the United Nations Global Compact since 2006, we have committed to the principles of the Compact and adhere to them on policy and practice levels. The values and principles of the Global Compact are reflected in all aspects of our internal and external activity.
Grant Thornton CJSC reiterates its full commitment to the ten principles of the Compact and believes that by being part of the Compact, we benefit as an organization and make our contribution to promotion of the principles and achieving greater sustainability within our community.
We hereby report on implementation of the Global Compact principles and commit to remain true to them in the future.
Report
Communication on Progress 2021
Download
Our CSR stories
Annually, Grant Thornton people around the world take part in voluntary campaigns on Global CSR day, demonstrating their commitment to making a real difference in their local communities.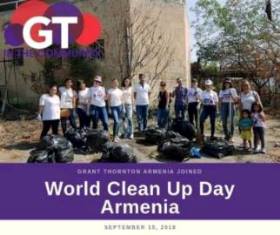 On September 15, 2018 millions of people united worldwide to clean up the world in a single day.



Within the frameworks of Grant Thornton International's Global Corporate Social Responsibility Day, Grant Thornton Armenia has also joined this global movement of immense importance.
The enthusiastic and energetic team of Grant Thornton Armenia cleaned up a section of Victory Park, of one our favorite parks in Yerevan. The area was completely cleaned of plastic bottles, garbage, plastic bags and dry grass.
We are confident that together we can make Armenia the most green country in the world!!!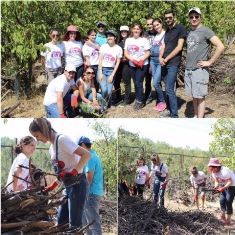 Every year in September all the people of Grant Thornton's big family unite for a common reason - to make a difference in their local communities and to spread this message of unity for better future around the world.
This year, on September 15 Grant Thornton Armenia once again organized a corporate socially responsible event that really made a difference. This time we helped "Bari Mama" NGO, whose main goal is to support infants who are abandoned due to health reasons and orphans with disabilities, as well as to reunite abandoned infants with their biological families.
Currently "Bari Mama" is on the way of realizing its biggest dream – an inclusive center – "Bari Tnak", where professional services will be provided to children with disabilities and their families, as well as it will serve as a shelter for them. Through donations they have already bought a beautiful spot at the outskirts of Yerevan which is waiting to be constructed into one of the kindest premises in Armenia.
Grant Thornton Armenia decided to join this difficult but happy and rewarding task of fulfilling the dreams of many. We are sure CSR is about believing and translating the words and the promises into real actions. Therefore, our team of passionate and enthusiastic people visited the purchased land and supported the advocates of kindness to clean the territory from grass, firewood, trash, as well as carried out some tree care activities. Also we made our small, but important donation to the cause of construction of the center.
Grant Thornton Armenia is proud to be a part of the great dream, which is called "Bari Tnak".